Like I wrote in my previous article "Replace iCade buttons with high quality SANWA buttons" I had a little time on my hands over the weekend to replace the buttons.
I have oredered 6 Sanwa OSBF-30 buttons from eBay for $15.99 with free shipping and you can choose the colors even from this store:
New 6pcs of Push Buttons OBSF-30 for Arcade Jamma Games parts free shipping
I have chosen one button from each color: Green, Blue, Red, Yellow, Orange and black.
Starting point for this mod was situation where I have all original iCade buttons and stick connected to Zero Delay Arcade USB Encoder PC to joystick for MAME & Fight Stick Controls.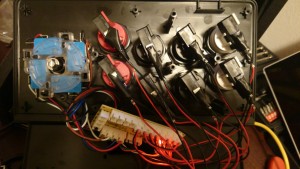 First thing I have done is to remove all the buttons and their switches.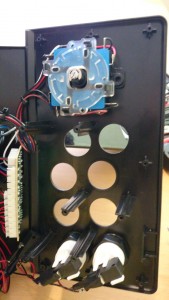 At this point you will need some tooling or you can use sandpaper. Original button mounting holes are 28mm wide but Sanwa buttons require 30mm. It took me almost 45 minutes to widen these holes with sandpaper. Make sure you are doing this on easy cleanable surface since there will be lot of plastic particles all around.
Also make sure that the holes are wide enough. I made a mistake when I could fit the button trough the hole, but when you push it all the way the hole is not wide enough for the button to work, and it gets blocked. It is not easy to pop the button out again.
I have mounted all 6 new Sanwa buttons as playing buttons and left the two old iCade buttons (White and Red) to serve as Start and Select buttons.
Now you need to connect the new buttons to your USB controller board.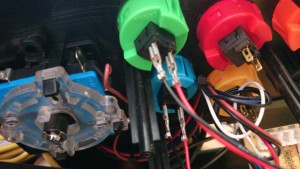 Make sure you put tape on the wires for isolation purposes just in case.
I am pretty satisfied with the result, buttons feel a lot better than the original ones, and it even looks prettier.
For comparison I have uploaded following video where you can hear the clicking noise from Sanwa buttons and from the original ones. Sanwa buttons feel more natural and are more quiet, while iCade have more resistance while you are pressing them, due to spring action which makes them noisier.