Since Android lollipop update on my Xperia phone and tablet I was in desperate need for more storage space.
Earlier this year I bought Toshiba MicroSD XC 64GB card for Xperia Z2 tablet with declared speed of 40MB/s. You can find a card like this one for $23.59 with free shipping on eBay. I can recommend the following seller and their super fast delivery service:
Toshiba Micro SD XC 64GB 64G 40MB/SEC Class 10 C10 U1 UHS1 Flash Memory Card New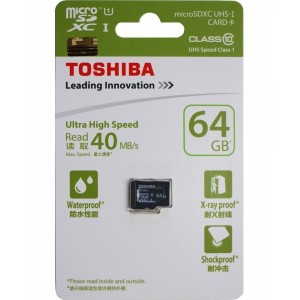 Since then my tablet had sufficient space and works like a charm.
Now lack of space was present on my Xperia Z2 phone which I use more and more as camera. I decided to get another 64GB card, but since I did not notice any difference between 30MB/s and 40MB/s speeds on my devices I opted for the cheaper version. For $22.59 with free shipping you can get this also excellent Micro SD card:
SanDisk Micro SD XC 64GB 64G Ultra 30MB/SEC Class 10 C10 UHS1 Flash Memory Card
Both cards are formatted to exFat and they work perfectly on both Xperia devices.
These cards are not just for mobile devices, you can use them also with your Raspberry Pi if you need extra space.
I have tested them both with Raspberry Pi 2 and they work without issues.
You can check the Raspberry Pi compatibility here.
I can recommend them for daily use.