One of the hardest things to choose right for me was LCD screen. There are so many of them to choose from, but there is no much choice if you are looking for 4:3 format screen in a compact form.
Since most of the retro games is made for 4:3 aspect ratio this was a must, so after a long search I found Towin L8009 8 Inch TFT Color LCD monitor at eachmall.com website that fits perfectly with it's 8" size and 800×600 resolution.
As you can see this small LCD TV can be multi-purpose device with it's analogue TV antenna connector, RCA connectors, Mini-Din VGA and headphone output connector.
On the back side you can see a small stand, together with mounting holes that I used to fit the monitor to my iCade case I described in previous article.
When I was ordering this TV main reason why I ordered from eachmall.com was inclusion of Mini-Din to VGA adapter cable.
Notice the VGA cable on the lower right side of the picture with power adapter: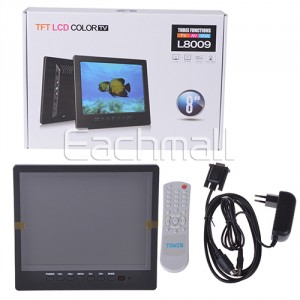 To my surprise this cable was left out from my order. I tried connecting to L8009's RCA inputs, but the image quality was poor. I am not sure if I should blame Raspberry Pi for poor RCA picture quality, but good folks at eachmall were kind to send me the cable afterwards.
Even though you will need additional adapter from HDMI to VGA for your Raspberry Pi and then connect the VGA to Mini-Din cable the picture quality you will get will be excellent. So it is for sure worth it to try to find an offer for this monitor that will come bundled with the adapter.
Here is the HDMI-to-VGA adapter together with audio output that I use to connect to my speakers. You can find these pretty cheap on eBay. It's small and fits perfectly to Raspberry Pi HDMI port.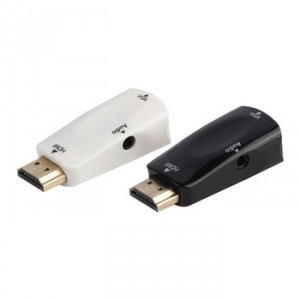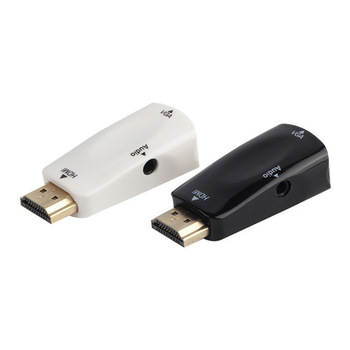 Currently I could not find any offers online of this model together with VGA adapter cable. But if you are OK with soldering you could make one yourself. I found this schematic online which can help you to connect directly from VGA to Mini Din, you just need Mini Din and VGA connector, together with a cable, a little soldering and a lot patience.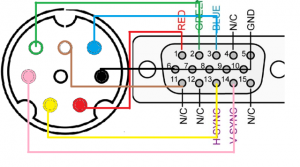 Anyway L8009 was a great choice for my bartop arcade project and fits perfectly in iCade case as you can see bellow:
I'm pretty satisfied with final result.
Update: I found an alternative to L8009 that you can order from DX.com that fits to this project:
L8008HD 8.0″ TFT LCD Display Screen Car Monitor w/ Stand + Speaker + VGA Cable – Black