I was intrigued with low price of Orange Pi PC on GearBest site and since I had a lot of unused points I decided to order one even though I did not really need it. For a few bucks you get quad core CPU, 1GB of RAM, Ethernet all the bells and whistles as Raspberry Pi for third of the price.
What could go wrong? Well it seems for this price you get what you paid for a third of quality manufacturing. As soon as I opened my box I noticed that the board is slightly bent as you can see on the picture here: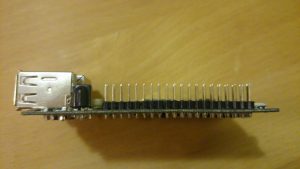 Board itself is not quality made and not sturdy enough. It seems that this was either error in manufacturing or shipping. I thought well it is not broken, all the pieces are there, it could work.
I have downloaded three different images for the Orange Pi, official one from their site, and two from loboris that I found on their forum as proven to work.
As soon as I applied power something seemed off. Orange light on the Ethernet jack lit up and nothing else happened as you can see on the picture: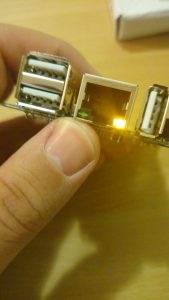 I waited some time, since no other light or activity happened I decided to connect my USB-2-serial adapter to check what is happening with boot procedure. Here is a clip booting Ubuntu Vivid Mate where you can see that it stops exactly at the point when detecting DRAM:
Similar thing happened when I tried to use Armbian:
From the following I could only conclude that DRAM could be the issue. After googling about my problem I found out that there is a lot of other people facing the same issue:
http://www.cnx-software.com/2015/10/02/orange-pi-pc-not-booting-you-are-not-alone/
Of course I have used different power adapters, different images, and nothing seemed to work. Only change I could see on this device was when I tried manually to slightly bend it, then green Ethernet light came on, but without any change in boot process.
After complaining to GearBest their solution was to refund part of the money I paid and give me additional points, but I was so disappointed with the product and the quality that I have decided not to invest in the same device again.
I will keep my two Raspberry Pi 3s and one Raspberry Pi 2 as my main devices and not go into future endeavors with these low-cost knock-off devices. Poor build quality, awful software support, no mainstream kernel support, no user support are just some things to mention.